Shade Coffee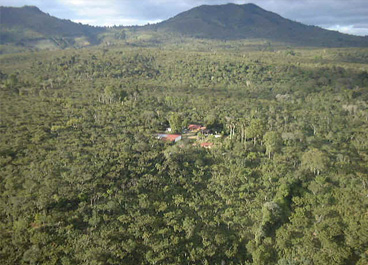 Finca Santa Leticia produces, on her 230 acres, only shade coffee, of which there are two varieties: Borbon and Pacamara. Borbon is a direct derivative of "old arabica", which produces a cup quality of delicate taste, clean, agreeable exquisite aroma, and added to these, excellent acidity and body. Our Pacamara,("Exceptionally pleasant cup, lightly full bodied and fragrant...", "Les Cafes Produit Dans Le Monde", Jobin, Philippe, P.642), which is a giant bean was created by Salvadoran coffee scientists in 1957 and is a derivative of two different varieties; Pacas (a Salvadoran variety, from the Borbon) and Maragogipe (introduced from Nyasalandia in 1901 and from there to Blue Mountain of Jamaica and Guatemala in 1903, Haarer,A.E. "Modern Coffee Production"Page 480).
Our coffee is produced from 4000 feet to 5700 feet altitude, this hybrid, when grown at high altitudes like ours, produces a coffee striking in appearance and most important of all, with excellent taste.
Enjoy the taste of Life with Santa Leticia
In 1996, we participated with our Pacamara in "The taste of the harvest "of the Specialty Coffee Association of America's Fair in Minneapolis, our cup is strikingly different, in which there is a tang of spicy taste in the cup, a cup which is delicate in taste, aroma, stupendous acidity and unparalleled body.

Did you know that more less one hectare of shade coffee produces 60pounds of fresh oxygen a day and every day for the whole world to use! We are also hosts to more than 120 different species of migratory birds, so important for our western hemisphere. The biodiversity of shade coffee is so impressive that scientists have found in just two shade trees alone, less than two hundred meters apart, 259 different species of insects.

Of the rainfall we receive only 4% of it runs off our land, compared to 72% runoff in farms without shade trees, our precious soil doesn't erode, on the contrary, every year we have more, because of the hundreds of tons of soil per hectare produced by our shade and forests trees!!

So you see we produce more than delicious coffee for you, we produce life for our earth, we help keep our little planet, a little better than it would be without our coffee
Ode To Coffee
It's there, in our cups.
Those who know the difference,
can savour the richness.

Picked in the morning,
processed in the afternoon.
Busy hands with trained fingers,
quickly pick the selected berries.

Lusty shouts,
as workers load the trucks
in the lateness of a setting sun.

Dusty roads
and the last glimmers of light,
greet our coffee,
and the process begins.
Stages of Coffee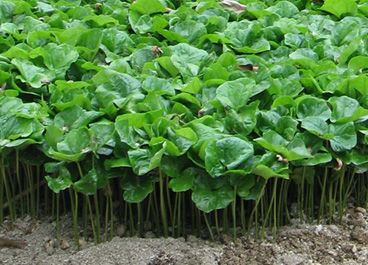 NURSERY
In 1992 we began "root grafting" all the new "seedlings". In this process only the root system is affected and the productive part of the plant will not be affected in anyway, we therefore have a stronger root system and a wonderful crop of Bourbon and Pacamara. This is done when the seedlings are ready to enter the nursery and it is done with robusta, thus the root system of our plants is stronger, having the characteristic of repelling a large variety of insects which would otherwise weaken our cafetos.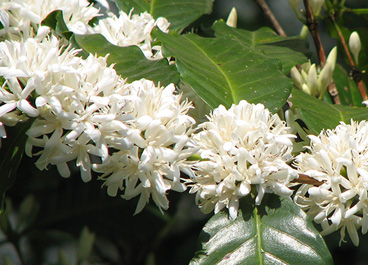 FLOWERING
Our flowering stage occurs between the months of March and May when the exotic scent of Jasmine flowers blends with the buzz of thousands of bees that pollinate the flowers.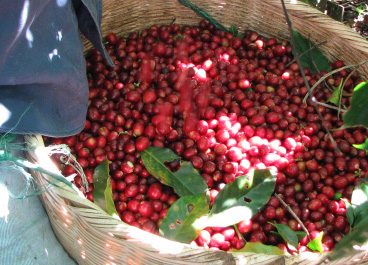 THE PICKING
December to early March is filled with joy of picking season. "La Cosecha" (The crop). By 11 o'clock in the morning, the first families begin to bring their small sacks of coffee to the receiving station where the coffee is first hand cleaned and separated of any accidental green beans that might have been picked, because our mill only accepts fully ripened deep, dark red berries.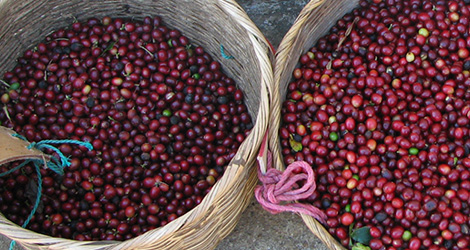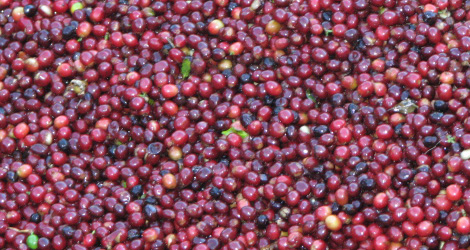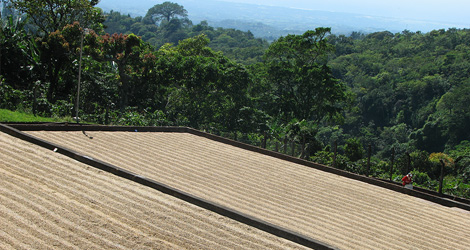 The Mill
All of our specialty gourmet coffee is washed with fresh water only and it is 100% patio sun-dried. To be received at the mill all the berries must be fully ripened with a dark cherry color, otherwise that particular delivery of coffee will not be accepted.

What happens to the coffee berries at the coffee mill?

To begin with, the tropical sun, the rich volcanic soil, with its deep dark humus, product of our shade and forest trees compost, the genetics of "Old Arabica", Borbon and Pacamara coffee trees and the mysterious Lamatapec Mountains that are bathed in cool northern breezes, generously transfer to the berry all the components that constitute perfection. In other words, once nature produces the berry, no one can better it, however, and here is the gist of it all, the berry can be ruined if it is processed wrong!

Once the trucks enter the mill and pass the weighing station, the berries enter a huge recollection bin where they pass into the depulping process. Here the berries are separated from the skin, leaving the skinless berry, still covered by mucilage (the fruity, meaty part), the hull and underneath that, we find the actual coffee bean.

The next step finds this still fruity berry in a fermenting bin; where by natural fermentation, the mucilage is softened by this gentle process. The bean is then separated from the mucilage by a washing process in clear, clean water.

The beans at this point are no longer berries, they are coffee beans, that still must be dried and hulled.

For the drying, we have nine 9 acres of patios in order to bring down the humidity of our unhulled coffee to 12%...it's a 100% sun drying procedure.

We now take our beautifully shaped, unhulled beans to a resting place. These are huge wooden store houses, where the coffee will rest for 45 days. Here the oils of our coffee beans will become evenly distributed, then we hull the beans, hand clean them and send them for their roasting and packing process, insuring you the freshest coffee in the world!

Say... instead of me writing so much about this, why don't you see the process first hand? Come on down and visit us. We'd love to have you!